South African foods or cuisine have had a significant influence on other cuisines. Although not many people know about some famous dishes' origins, you probably know their different variations, like fried plantains (typical of Latin American cuisine).
South African foods or cuisine have had a significant influence on other cuisines. Although not many people know about some famous dishes' origins, you probably know their different variations, like fried plantains (typical of Latin American cuisine).
Today, let me introduce you to some of the delicious dishes of this diverse and rustic cuisine. Many unique and enjoyable treats from South Africa are waiting for you below.
South African Desserts To Make Snack Time Fun Again
I promise you, every dish in this South African sweet treats suggestion will absolutely be toothsome. Some might even amaze you with their meaning or goodness. It is time to explore some delightful South African desserts!
1. Koeksisters (Plaited Doughnut)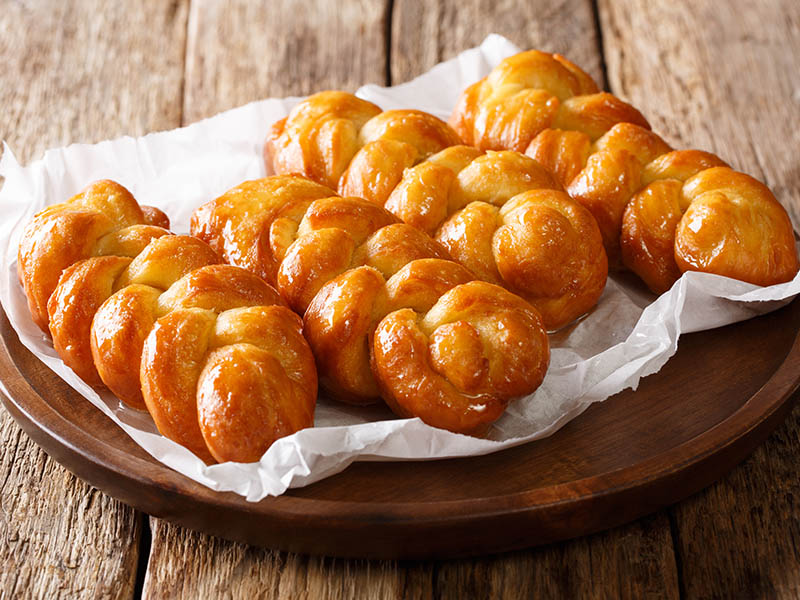 This treat is the classic sweet treat for Afrikaners, especially children. When asking any children on the streets about their favorite foods, they might mention these koeksisters.
The idea to create the dish is quite simple, with only fried plaited dough and honey (or sugar syrup coated), yet you'll find it hard to stop eating this dish. Sometimes, the simplicity brings out the allurement.
If you go to the town of Orania, you will find a statue of koeksisters. They build that statue to celebrate the women who sell things and donate money for local public facilities like schools and churches.
2. Melktert (Milk Tart)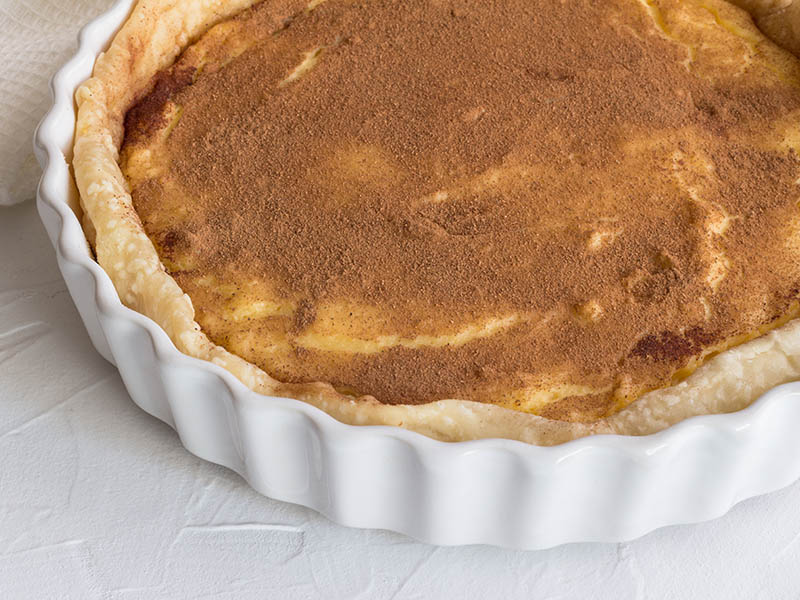 This melktert was created when the Dutch settlers came to the Cape Colony in the 17th century. The food was inspired by their homeland's mattentaart.
The fascinating South African recipe includes crunchy crust with milky and creamy custard. It is always topped with powdered cinnamon, so these sweets are exceptionally fragrant.
You might confuse it with Pastel De Nata, a classic recipe from Portugal, yet the melktert is much eggier and milkier. My tip for you here is if you have any leftovers, don't toss your sweet treat into the freezer, or the texture and flavor will change.
3. Malva Pudding
In Afrikaans, the word "Malva" stands for a plant with rose-scent or fragrant lemon geranium. It also leads to a theory about the name of this simple sponge cake is its batter was flavored by the leaves initially.
Yet, there are still some other theories, such as the cake was named after a woman called Malva or a particular liquor, Malvasia. A highly regarded dish in Africa, Malva tends to be served hot with jam or custard in the Sourthen regions.
The treat is so delicious that it is also famous on the West Coast of the US, thanks to Art Smith, who was Oprah Winfrey's personal chef. He decided to bring Malva pudding to her Leadership Academy for Girls in South Africa's Christmas party dinner in 2006.
4. Hertzoggie (Hertzog Tartlets)
The cookie is named after a 20th-century South African politician, J. B. M. Hertzog, because it was his favorite, and his supporters wanted to call it that way.
This Hertzoggie or Hertzogkoekie dish consists of a pastry base with apricot jam and topped with toasted coconut meringue. To relieve the greasy taste, people will often eat it with English brewed tea.
Light bitterness from tea and sweetness from the cookies blended with the other ingredients to create a phenomenal taste. Furthermore, Hertzoggie is also the inspiration for Jan Smuts cookies with a sweet apricot jam filling with creamed butter and sugar instead of meringue.
5. Rusk
When it comes to the origin of this dish, we have to talk about the late 1690s. That is the time when South Africans wanted to create a breakfast cake that they could preserve for a long time.
They often bring this dish when they have a prolonged trip as dry food, and it can still retain its crispiness.
You might compare this dish to the traditional Indian biscotti because it also includes buttermilk and raisin. Similar to Indian biscotti, rusk is baked twice and people often soak it in coffee. Yet, the taste will be totally distinguished, and you should try it once.
Today South Africans eat this dish at all meals of the day and eat it as a snack. When you go to a South African's home, they'll likely offer you this as a delicious snack with tea.
Collect this best guide to creating rusk and know more about it today!
6. South African Avocado Ice Cream
This ice cream is not originally from Africa, but it is prevalent in South Africa due to the hot weather, and people will want something refreshing to cool off. Rich with avocado's irresistible flavors, what's a better dish to combat the heat than this signature South African ice cream?
The creator of this dish was Somerset Maugham, a British author, in the 1920s. According to his original recipe, this dish is also laced in rum. Avocado ice cream is not only delicious, cool, and nutritious, so don't hesitate to try it right away.
Tasty African Dishes With Bread And Sandwiches
Like many other cultures, bread or sandwiches are important foods in the daily life of South Africans. To learn more about their unique recipes for these dishes, scroll down below.
7. Braaibroodjie (Barbecue Bread)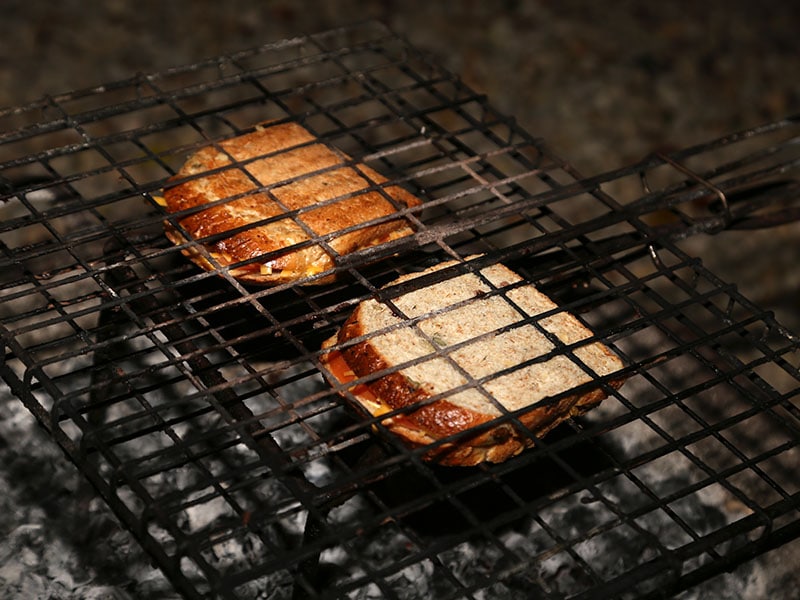 I admit that South Africans eat this treat any time of the day. From tempting South African-style lunches to dinner, everything will work.
The term "braai" in South Africa can be translated into "grill," and plenty of South African dishes are made by this method.
To be more specific, this braaibroodjie (or barbecue bread) is actually a grilled cheese sandwich. You might find this treat familiar since there are various variations of this dish worldwide. The difference in this South African one lies in the charcoal fire.Grilling foods on the charcoal fire will not only offer a crispy exterior as you usually expect from a sandwich, but it will also enhance the taste of the sandwich with the lovely smokey scent. Yummy!
You won't regret learning more about braaibroodjie from this helpful guidance.
8. Roosterbrood/Roosterkoek (Grid Bread)
Unlike the previous braaibroodjie, this roosterbrood requires no fillings. The word roosterbrood only describes a type of bread made of simple ingredients (water, sugar, yeast, flour, and so on) being grilled directly on the charcoal fire.
This grid bread is an authentic South African treat as the indigenous Khoe people from the Cape region are the first ones to make this bread.
The crusty and smokey bread has been long-favored in this country for centuries, and people love to eat it with grilled meat to balance the flavors.
9. Potbrood (Pot Bread)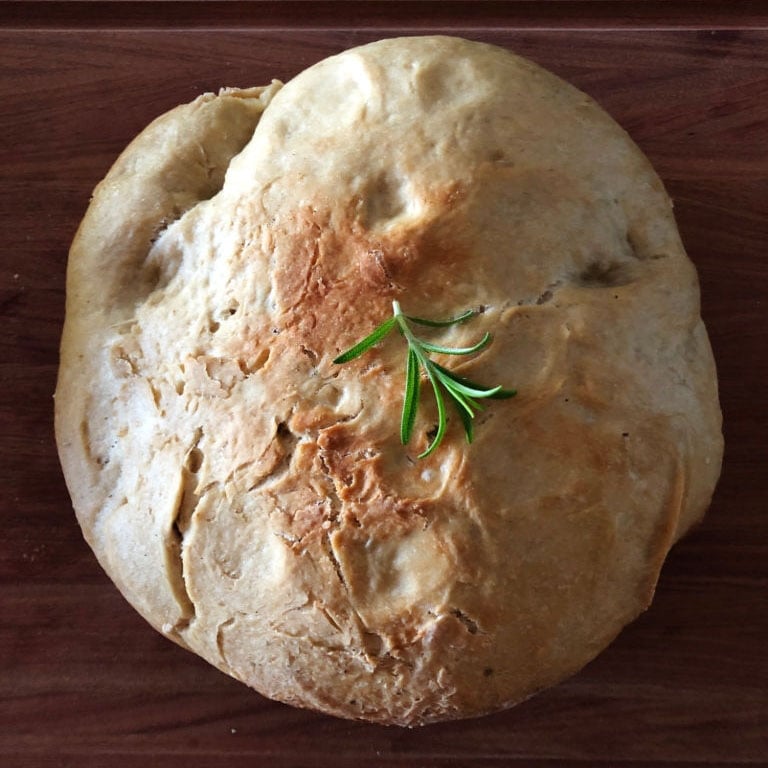 It might not be a 100% traditional bread recipe of South African because it was inspired by the Dutch's cooking method. The Boer settlers were the first to create this bread in a Dutch oven underground.
The cooking method has changed a bit; nowadays, people can also make it in a cooking pot with wood coals and charcoal packed around with no change in the ingredient list.
To enjoy these potbroods the right way, you should experience it with braai (grilled dishes) or potjiekos (stew dishes) as a bland base.
10. Vetkoek (Fried Bread)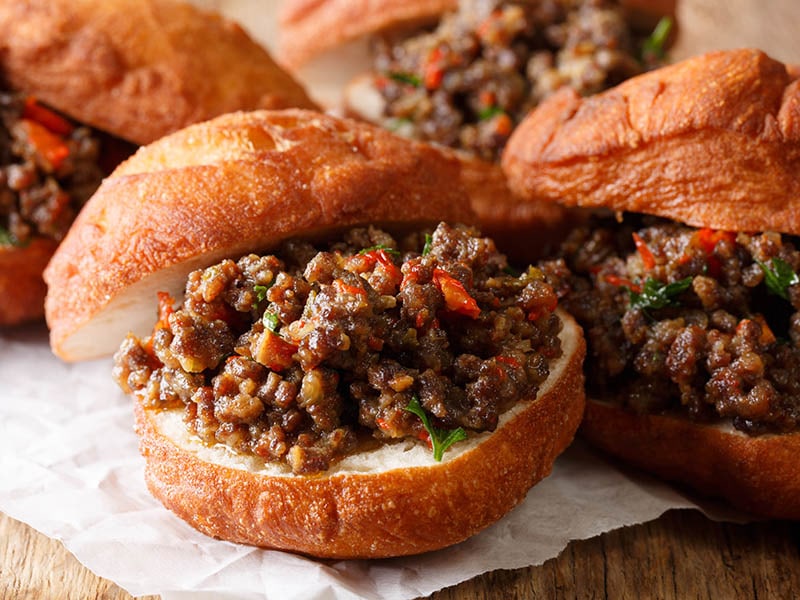 This vetkoek can be considered a dessert or a quick South African breakfast. It is also a guilty pleasure treat since it is absolutely appetizing, and you might not be able to stop craving (although knowing that it is not entirely healthy).
Given how delicious vetkoek is, it's no surprise that the dish has crossed South Africa's border to become one of the most popular treats in Botswana and Namibia.
Dutch immigrants who moved to the Cape made the first vetkoek in the early 1800s. This food with "V" as the starter was created when the immigrants tried to create a new bread dish quicker to save their time in the day, and frying was the best option.
In addition to filling the oil-fried bread with minced meat, people in South Africa also love adding a little cheese or fruit jam, chicken curry, or minced chicken mayo.
Those pairing options make this traditional South African bread dish crispy exterior and moderately soft and moist inside.
The best introduction for this vetkoek is right here!
11. Mealie Bread (South African Corn Bread)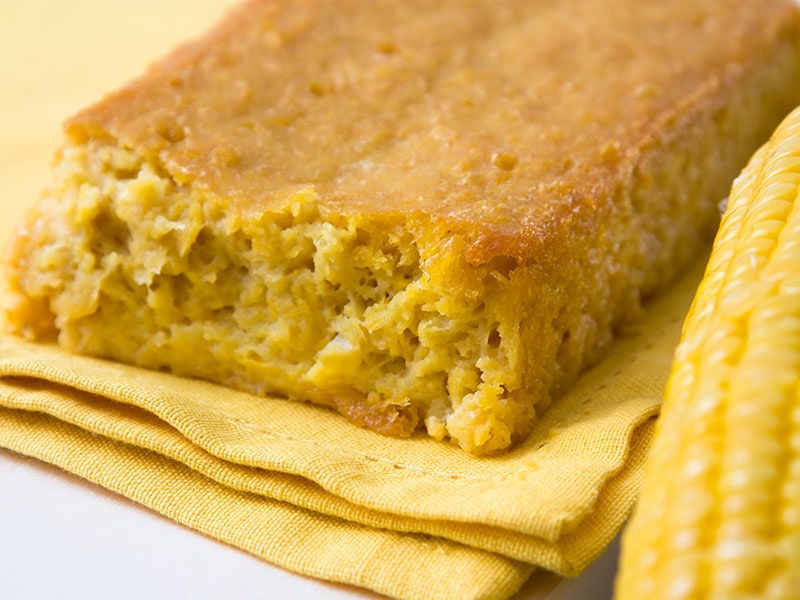 When North American maize came to South Africa with the help of the Portuguese, South Africans started to make their daily treats with it more often. Maize has become so prevalent that many Afrikaans' dishes are made of this specific starch.
Besides bread, there is still much application for maize meals in this country's cuisine. Yet, let's talk about sweet cornbread first.
Mealie bread has many variations in South Africa, in particular or in Africa in general. Some varieties have their bread steamed, while others have their bread baked in the oven. I personally love the baked mealie bread better since it will lend a crunchy crust.
12. Gatsby Sandwich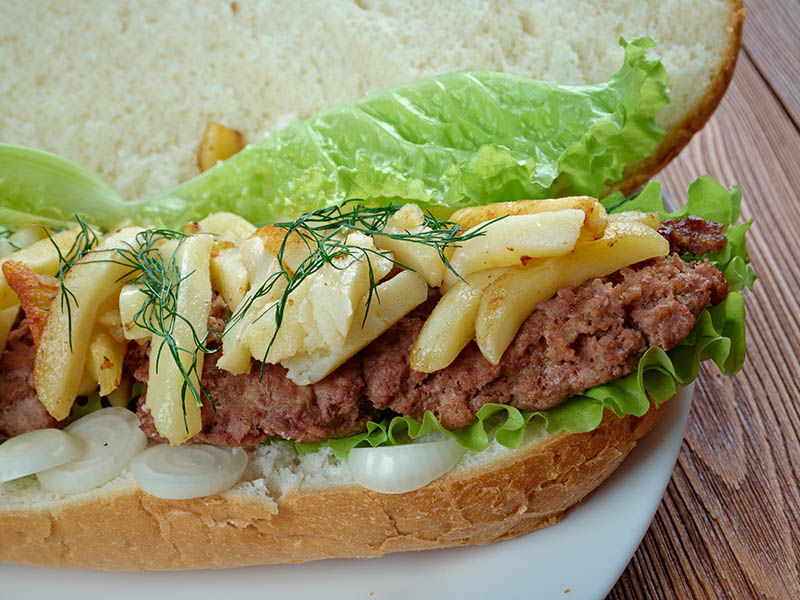 The first one to make and sell his Gatsby bread was Rashaad Pandy in 1976; he was a man who lived in Cape Town at that time.
The idea came to him suddenly when he only tried to provide the workers helping him renovate his shop a quick and nutritious meal. He then thought of gathering fried potatoes, polony sausages, and many more as his bread filling.
Since Randy made his bread at random, there is no official recipe. The fillings are based a lot on your or the sellers' preferences. You can even find vegan options aside from the hearty, meaty gatsby sandwiches.
The taste test you might be asking for when mentioning gatsby's sandwich is right here!
13. Bunny Chow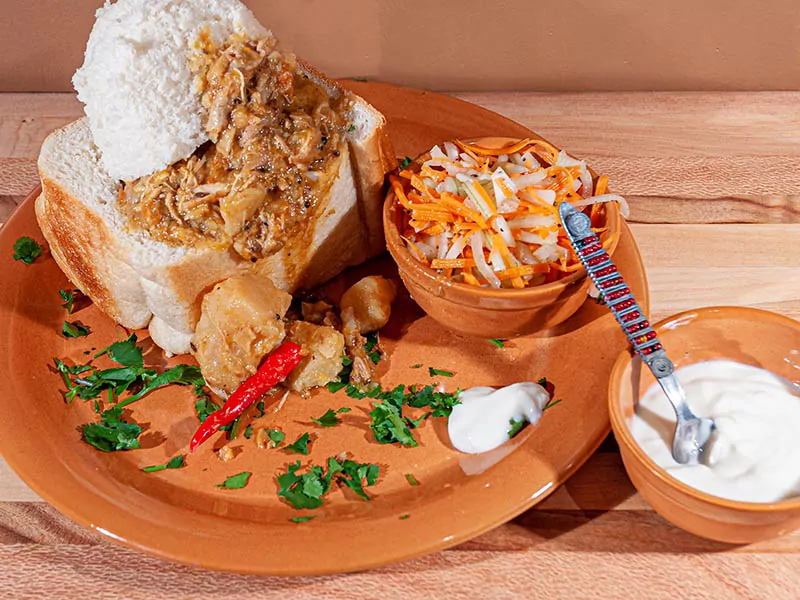 The origin of Bunny Chow came from Durban (South Africa) and was first created by the Indians living in this area. Bunny Chow is now very popular with South Africans because of its delicate appearance, lovely name, and unique tastes.
To create a bunny chow, people will hollow a loaf of white bread by taking out the interior, then fill it with curries (mutton, lamb, beans) and other toppings.
Now, I will show you how to order a portion of bunny chow in South Africa. First, this dish is usually served in quarter, half, and whole loaves. Therefore, you should tell the sellers how much you want to eat. And don't forget the flavors of curry you want for your treat.
For example, if you want half of a bunny chow loaf with lamb curry, you should ask the seller like this: "Can I have a half mutton bunny?". That is how to help the seller understand what you need.
Luscious Stewed Delicacies Of South Africa
South African stews are diverse and intriguing. Learn more about these delicacies to better understand the culinary heritage of this country.
14. Waterblommetjie Bredie (Waterblommetjie Stew)
This waterblommetjie is an indigenous staple to South Africa, first created by the Native Africans, the Khoikhoi people. The waterblommetjie or Aponogeton distachyos flowers are a common plant easily found in the marshes/dams of the Western Cape.
This specific plant has various health benefits, so it has existed in the Native Africans' diet for a long time. They will harvest the plant buds in the southern midwinter months (July or August) and cook them for later winter meals.
They use waterblommetjie and lamb (as the primary protein) to make this stew. The food will be cooked for hours before being able to be served.
Imagine gathering with your loved ones around a bonfire when the weather gets colder and enjoying a steaming hot bowl of stew. How romantic it will be!
Listening to the detailed story about this tasteful waterblommetjie bredie will not disappoint you.
15. Tamatiebredie (Tomato Stew)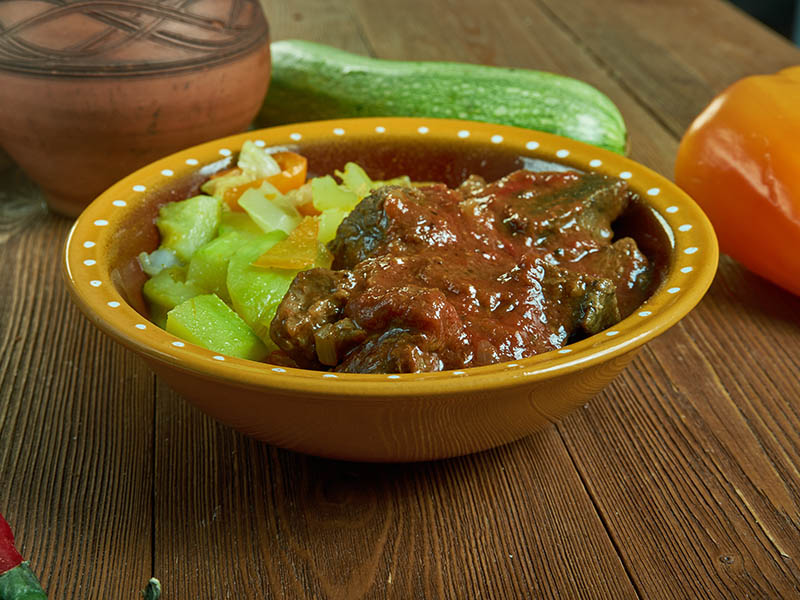 In the recipe list of this food, instead of using waterblommetjies like the previous one, they will use tomatoes with lamb meat.
Unlike the previous bredie, this dish has a Dutch origin, yet, with the harmony of the Malays' culinary culture, the food has become more tasteful. The word "bredie" also has a Malay origin, which can be solid proof for my word.
To balance the tastes, you can eat this tomato stew with cauliflower, parsnips, lentils, or steaming hot white rice.
16. Potjiekos (Food Made In A Pot)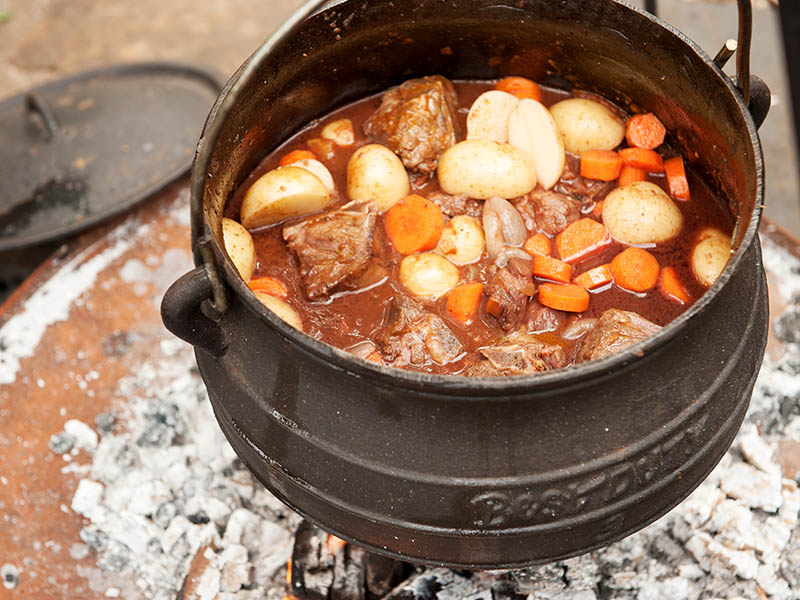 This traditional one-pot meal is cooked in a cast iron or a legendary three-legged cast-iron pot. Although it resembles a stew, it contains almost no liquid. Instead, the main ingredients are only meat, vegetables, and starch (with the use of potatoes).
The Dutch's voortrekkers (or "pioneers" in English) are the first ones to make this potjiekos and they originally cooked in the potjie or three-legged cauldron (which is the descendant of the traditional Dutch oven).
They were also the first ones who brought that cookware to South Africa in the 17th century.
The food consists of meat cubes (from lamb, mutton, and so on), veggies, and some other ingredients. An essential part of this pot is the Dutch-Malay sauce, which holds the key to almost all the goodness.
Grab a famous South African beverage, pair it with this delicious dish, and you'll have the perfect dinner to sate your appetite. It doesn't get any better than this.
Let's take a look at this documentary to see the traditional way to make potjiekos now!